Violet Wands - Electrify Your Sensual Play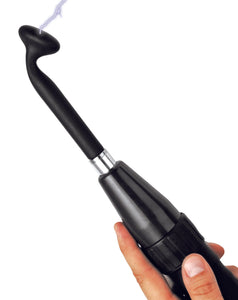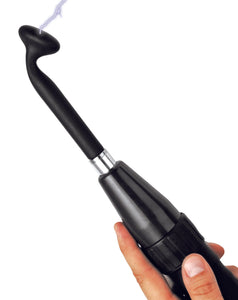 Violet Wands - Electrify Your Sensual Play
Violet Wands
If you're ready to take your Violet Wand play to the next level, look no further! Introducing our revolutionary silicone attachment for the Zeus Twilight Violet Wand. Unlike anything you've experienced before, this versatile accessory will electrify your senses and provide an intense and sensual journey.
Crafted with soft and flexible premium silicone, our Violet Wands attachment features a unique mushroom head shape designed to deliver concentrated electro stimulation to any part of your body. It plugs effortlessly into your favorite violet wand, allowing you to explore new realms of pleasure and excitement.
Leave behind the worries of fragile glass. Our extreme accessory offers estim intensity without the fear of accidental breakage, making it perfect for both travel and rough play. The premium silicone not only ensures durability but also acts as an intense conductor, amplifying the sensations you crave.
Cleaning up after your electrifying adventures is a breeze. The silicone material wipes clean easily, so you can focus on the pleasure without the hassle.
Product Details:
Length: 4.5 inches
Material: Silicone, aluminum
Color: Black
Frequently Asked Questions (FAQ):
Q: Is this attachment compatible with all Violet Wands? A: No, this attachment is specifically designed for use with the Zeus Twilight Violet Wand.
Q: Can I use this attachment for both delicate and rough play? A: Absolutely! Our silicone attachment provides the perfect balance of flexibility and durability, making it suitable for various play styles.
Q: How do I clean the silicone attachment? A: Cleaning is effortless. Simply wipe the attachment with a damp cloth or use mild soap and water. Ensure it is completely dry before storage.
Q: Is this attachment safe for beginners? A: Yes, it is! The soft silicone material combined with adjustable intensity levels allows beginners to explore electrifying sensations at their own pace.
Genres:
Sensual Pleasure
Adult Toys
BDSM
Themes:
Exploration of Sensations
Pleasure Enhancement
Adult Play
Conclusion:
Elevate your playtime to new heights with our cutting-edge Violet Wands attachment. Crafted from premium silicone and designed for intense stimulation, this accessory opens up a world of electrifying pleasure. Say goodbye to delicate glass and hello to a travel-friendly, versatile toy that delivers unmatched satisfaction. Get ready to embark on an electrifying journey like never before!