Digital Pussy Pump: Increase Vulva Size and Sensitivity | Easy Button Controls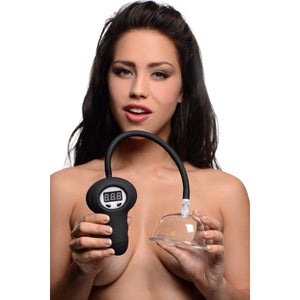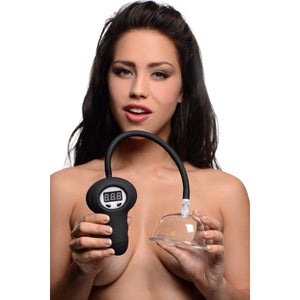 Digital Pussy Pump: Increase Vulva Size and Sensitivity | Easy Button Controls
Pussy Pump
Increase size and sensitivity in your vulva with this digital pussy pump! The clear cylinder provides easy viewing as you watch your inner and outer labia get plumper and plumper as the number on the gauge gets higher and higher. The ultra-strong suction power is easy to control with the simple button controls.
A quick release button allows you to rapidly free yourself from the intense pressure, leaving your swollen, sensitive vulva available for play. Alternatively, you can remove the hose and keep the cup suctioned on after you have achieved your desired results.
Product Details
Measurements:

Cylinder: 4.5 inches (length), 3.25 inches (width)
Hose: 10 inches (length)
Controller: 5 inches (length), 3.5 inches (width)

Material: Acrylic, ABS, silicone, metal
Color: Clear
Frequently Asked Questions (FAQ)
Q: How does the pussy pump work? A: The pussy pump uses ultra-strong suction power to enhance the size and sensitivity of your vulva. Simply place the clear cylinder over your vulva and activate the pump to watch your labia plump up.
Q: Is the pressure adjustable? A: Yes, the digital pussy pump features simple button controls that allow you to control the suction power according to your comfort level.
Q: Can I release the pressure quickly if needed? A: Absolutely! The quick release button allows for rapid pressure release, ensuring your safety and comfort during use.
Q: Can I keep the cup suctioned on after achieving desired results? A: Yes, you have the option to remove the hose while keeping the cup suctioned on, allowing you to enjoy the enhanced sensitivity and swelling.
Genres
Adult Novelty
Sexual Wellness
Intimate Health
Themes
Sexual Enhancement
Body Confidence
Self-Care
Conclusion
Experience heightened pleasure and embrace your sensual side with the Pussy Pump! This digital pump offers an easy and controlled way to increase the size and sensitivity of your vulva. Watch as your labia plumps up, creating an exciting visual experience. With its ultra-strong suction power and convenient features like a quick release button, this pussy pump puts your comfort and satisfaction first. Elevate your intimate moments and explore new sensations with this innovative device.