Vibrating E-Stim Prostate Massager - Intense Pleasure for Mind-Blowing Orgasms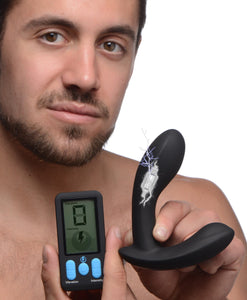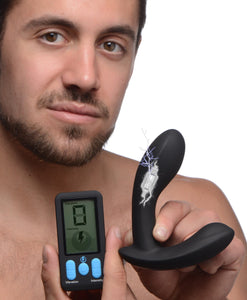 Vibrating E-Stim Prostate Massager - Intense Pleasure for Mind-Blowing Orgasms
Vibrating Prostate Massager
Experience electrifying pleasure with the Vibrating E-Stim Prostate Massager. Designed to deliver intense satisfaction, this premium toy takes you on a journey into the world of electro play without the need for complicated power boxes or connection systems. Get ready to indulge in mind-bending levels of pleasure and reach new heights of ecstasy, whether you're enjoying it solo or with a partner.
Featuring dual motors, this massager offers 5 powerful vibration functions alongside 5 different shocking intensities. Explore the combinations and find the perfect blend of vibes and shocks that suit your playstyle. The ergonomic shape is expertly crafted to stimulate your prostate and perineum simultaneously, ensuring full-body pleasure that will leave you breathless. Its comfortable fit allows you to wear it discreetly between your cheeks, enhancing your orgasms and providing blissful booty pleasure.
With a wireless controller boasting a large, easy-to-read display, you have complete control over the vibration and shocking intensity. Easily find your ideal settings to take your pleasure to its peak.
The Zeus E-Stim Pro line is renowned for its premium quality, and this massager is no exception. It is rechargeable using the included USB charging cable, ensuring hours of uninterrupted pleasure. The velvety smooth silicone construction is both phthalate-free and latex-free, guaranteeing a safe and body-friendly experience. Remember to use water-based lubricants only to preserve the luxurious feel of the silicone materials.
Product Details
Overall length: 5.1 inches
Insertable length: 4.3 inches
Widest insertable diameter: 1.5 inches (convertible to 3.8 cm)
FAQs (Frequently Asked Questions)
Q: Is the Vibrating E-Stim Prostate Massager waterproof? A: No, this massager is not waterproof. Avoid submerging it in water or using it in the shower.
Q: Can I use this massager with other lubricants besides water-based ones? A: No, we recommend using water-based lubricants only to ensure the longevity of the silicone materials.
Q: How do I charge the massager? A: The massager is rechargeable via the included USB charging cable. Simply connect it to a power source and let it charge fully before use.
Q: Can I use the massager for anal penetration only, or is it suitable for vaginal stimulation as well? A: The Vibrating E-Stim Prostate Massager is specifically designed for prostate and perineum stimulation and is not recommended for vaginal use.
Genres
Adult Toys
Men's Pleasure
Themes
Sensual Exploration
Pleasure Enhancement
Conclusion
Indulge in a mind-blowing journey of pleasure with the Vibrating E-Stim Prostate Massager. This premium toy combines powerful vibrations and electrifying shocks to take your satisfaction to unprecedented levels. Crafted with high-quality materials and featuring a comfortable ergonomic design, this massager is your ticket to intense pleasure. Elevate your solo play or partner experiences and unlock new heights of orgasmic bliss. Get ready to explore the electrifying world of electro play!