Slim Pleasure XL Vibrating Bullet - Wave Textured Silicone Sleeve - USB Rechargeable - Waterproof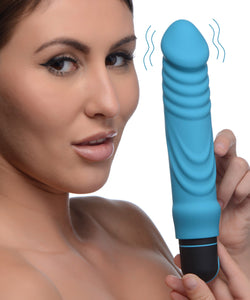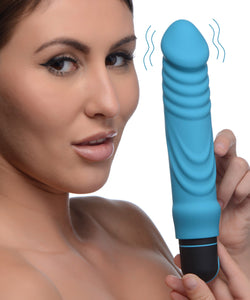 Slim Pleasure XL Vibrating Bullet - Wave Textured Silicone Sleeve - USB Rechargeable - Waterproof
Slim pleasure bullet
Get ready for an electrifying experience with the Slim Pleasure XL Vibrating Bullet! This extra large bullet is designed to take your pleasure to new heights. Its slim and silky smooth body houses a powerful motor, perfect for both internal and external stimulation. Whether you're craving deep penetration or tantalizing external play, this bullet has you covered!
The wave textured silicone sleeve adds an irresistible element of pleasure as you thrust in and out. Its ridges enhance every sensation, making each movement more exhilarating. And don't worry, if you prefer a smoother surface, the outer silicone sleeve is removable for a discreet experience.
With three vibration intensities to choose from, you can customize your pleasure to suit your desires. Whether you crave gentle vibrations or powerful pulsations, this XL bullet delivers it all. Enjoy it with or without the sleeve for endless possibilities and effortless pleasure.
No need to worry about batteries running out at the wrong moment. Simply recharge this slender bullet using the included USB charging cable. Its IPX7 waterproof design ensures easy cleaning and makes it shower-friendly for added fun. Remember to use water-based lubricants for a seamless experience.
Product Details:
Product Type: Vibrating Bullet
Barcode: N/A
Product Specifications:
Bullet With Sleeve Measurements: Overall length 9.5 inches, insertable length 6.5 inches, widest insertable diameter 1.8 inches
Bullet Measurements: 8.5 inches in length, 1.4 inches in diameter
Materials: Silicone, ABS
Color: Blue
Frequently Asked Questions (FAQ):
Q: Is the silicone sleeve removable? A: Yes, the outer silicone sleeve can be easily removed for a smooth and sultry bullet.
Q: How do I recharge the bullet? A: Recharging is a breeze! Simply use the included USB charging cable to replenish its power.
Q: Is the bullet waterproof? A: Absolutely! The bullet features IPX7 waterproofing, allowing for easy cleaning and shower-friendly adventures.
Q: Can I use any lubricant with this bullet? A: For the best experience, we recommend using water-based lubricants with this product.
Q: How many vibration intensities does the bullet have? A: The Slim Pleasure XL Vibrating Bullet offers three vibration intensities, providing versatile pleasure options.
Genres:
Themes:
Sensual Pleasure
Sexual Exploration
Conclusion:
Indulge in the ultimate pleasure experience with the Slim Pleasure XL Vibrating Bullet. This exquisite bullet combines power, versatility, and a wave-textured sleeve to take your pleasure to unprecedented heights. Whether you're craving internal or external stimulation, the Slim Pleasure XL delivers with precision and passion. With its sleek design, USB rechargeability, and waterproof features, it's the perfect companion for exciting solo adventures or intimate moments with a partner. Upgrade your pleasure game today!