Buzzing Pleasure Set - Enhance Your Intimate Moments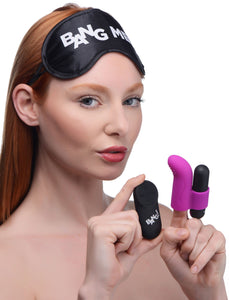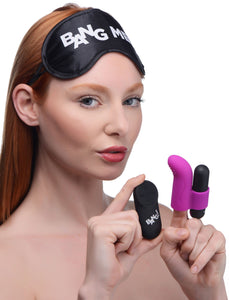 Buzzing Pleasure Set - Enhance Your Intimate Moments
Buzzing Pleasure Set
Experience a new level of pleasure with the Buzzing Pleasure Set. Designed specifically for couples, this curated collection of toys will elevate your intimate encounters to exhilarating heights. Get ready to explore a world of silky smooth buzzing goodness that will leave you and your partner craving for more.
Product Details
Product Type: Pleasure Set
Barcode: [Insert Barcode Here]
Buzzing Pleasure Set Includes:
Textured Finger Sleeve: The finger sleeve is designed to fit snugly on your finger, adding a thrilling texture to your touch. It features a hollow cavity that perfectly accommodates the included vibrating bullet, intensifying pleasure with every movement.

Love Ring: Slip on the love ring and let it embrace your package. This innovative ring also features a hollow cavity for the vibrating bullet, ensuring mind-blowing vibrations throughout your entire length.

Powerful Bullet Vibe: The small yet mighty bullet vibe is packed with excitement. With 4 intensities and 7 patterns of vibration, it delivers versatile sensations to ignite your senses. Slip it into the finger sleeve or love ring for an electrifying experience.

Remote Control: Take control of your pleasure with the included remote. Easily switch between functions as you play, from gentle vibrations to intense pulsations. Discover new orgasmic heights as you or your partner climax with the perfect setting.

USB Rechargeable: When the power runs low, simply recharge the bullet vibe using the included USB charging cable. With no batteries to worry about, you can indulge in pleasure whenever the mood strikes.

Waterproof Design: The entire set is crafted with IPX7 waterproofing, making it shower-friendly and easy to clean before and after use. Dive into wet and wild adventures without any worries.

Satin Blindfold: Elevate your sensory experience with the luxurious satin blindfold. Its smooth and soft texture, combined with an elastic headband, ensures comfort for all head sizes. Heighten the anticipation and touch by blocking out your partner's sight.
Product Measurements:
Blindfold: 7.5 inches in length, 3.25 inches in width
Bullet Vibe: 3 inches in length, 0.8 inches wide
Finger Vibe: 2.6 inches in length, 1.8 inches insertable length, 0.9-inch widest diameter, finger ring diameter 0.7 inches
Love Ring: 2.8 inches in length, 1.8 inches wide, ring inner diameter 1.3 inches
Materials:
Silicone
ABS Plastic
Fabric
Color:
Purple
Frequently Asked Questions (FAQ)
Q: Is the Buzzing Pleasure Set safe to use? A: Absolutely! The vibrating bullet, finger vibe, and love ring are all made from high-quality silicone, ensuring a velvety smooth and body-safe experience. They are also phthalate-free, so you can enjoy worry-free pleasure sessions.
Q: Can I use lubricants with the Buzzing Pleasure Set? A: Yes, you can use water-based lubricants with this pleasure set. Please avoid using silicone-based lubricants as they may damage the silicone materials.
Q: How do I recharge the bullet vibe? A: To recharge the bullet vibe, simply connect the included USB charging cable to the toy's charging port. Plug the other end into a USB power source, such as your computer or a USB wall adapter. Once fully charged, it's ready to deliver delightful vibrations.
Q: Is the blindfold adjustable? A: Yes, the satin blindfold features an elastic headband that ensures a comfortable fit for all head sizes. Whether you're using it or your partner is, you can enjoy the sensation of heightened touch.
Genres
Themes
Sensual Exploration
Intimacy Enhancement
Conclusion
Indulge in an unforgettable experience with the Buzzing Pleasure Set. This meticulously curated collection of toys is designed to take your intimate moments to thrilling new heights. The silky smooth silicone, powerful vibrations, and thoughtfully crafted designs will ignite your passion and awaken new sensations.
Enhance your fingers and your package with the textured finger sleeve and love ring, both featuring hollow cavities to accommodate the vibrating bullet. With 4 intensities and 7 patterns of vibration, you can customize your pleasure and explore endless combinations. The included remote control puts you in command, allowing you to switch up the functions effortlessly.
Let the satin blindfold transport you and your partner into a world of heightened senses. Embrace the anticipation as touch becomes more intense and every sensation electrifies your desire. The Buzzing Pleasure Set is the key to unlocking a realm of pleasure that you've always dreamed of.
Don't wait any longer - take the plunge and discover the pleasure that awaits you. Order your Buzzing Pleasure Set today and embark on an extraordinary journey of passion and satisfaction.