Intimate Comfort 4-Point Sling for Enhanced Pleasure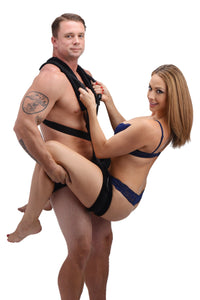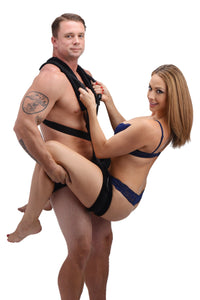 Intimate Comfort 4-Point Sling for Enhanced Pleasure
Enhanced support sling for couples
Get ready for an extraordinary intimate experience with the Intimate Comfort 4-Point Sling. Designed to bring couples closer, this innovative sling offers enhanced support and opens up a world of exciting possibilities. With its four-point suspension system, you and your partner can indulge in intimate encounters like never before.
By hooking the top straps around his shoulders and the bottom straps around her thighs, the Intimate Comfort 4-Point Sling allows you to enjoy a feeling of weightlessness as she hangs suspended from her lover. The adjustable chest straps ensure a perfect fit, accommodating a wide range of body types and sizes.
Take control of the angle and depth of penetration, as you explore new dimensions of pleasure together. Whether you prefer face-to-face intimacy or the thrilling doggie-style action, this sling has got you covered. The secure handles attached to the shoulder straps provide an excellent grip, giving you both the confidence to unleash your wildest desires.
Product Details:
Material: Nylon, metal, ABS, foam
Color: Black
Padded shoulder straps: 16 inches (length) x 3.5 inches (width)
Adjustable chest straps: 20 to 50 inches (length from center point)
Adjustable stirrups: 14 to 23 inches (length from center point)
Frequently Asked Questions:
Q: Is the Intimate Comfort 4-Point Sling adjustable for different body sizes? A: Absolutely! The chest straps and stirrups are adjustable to accommodate a wide range of body types.
Q: Can I use the sling with my partner facing away from me? A: Yes, you can definitely try different positions. The sling offers flexibility for both face-to-face and doggie-style action.
Q: Are the handles sturdy enough for a good grip? A: Yes, the handles are securely attached to the shoulder straps to provide a reliable grip during your intimate moments.
Relevant Genres:
Romance
Adult
Relationships
Relevant Themes:
Intimacy
Exploration
Sensuality
Conclusion:
The Intimate Comfort 4-Point Sling opens the door to a world of intense and intimate connections. Experience weightless pleasure as you and your partner delve into new depths of passion. The adjustable design ensures a perfect fit for both of you, while the sturdy handles give you the confidence to explore without limits. Elevate your intimate experiences with this remarkable sling and discover the true meaning of pleasure.