Lotion Cherry The Sensual Delight for Unforgettable Moments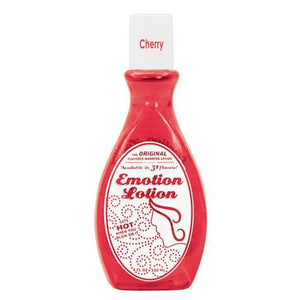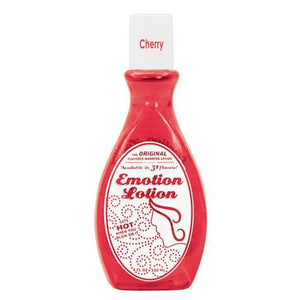 Lotion Cherry The Sensual Delight for Unforgettable Moments
F
lavored warming massage lotion
Indulge in a passionate and tantalizing experience with Emotion Lotion Cherry. As the world's original flavored warming massage lotion, it has been the top choice for couples seeking intimate moments for over 45 years. Made from completely edible ingredients, this luscious cherry-flavored lotion will elevate your sensual encounters to new heights.
Key Features
Edible & Warming: Emotion Lotion Cherry is a water-based massage lotion that warms up when you rub it on the skin. Blow on it, and the heat intensifies, igniting the passion between you and your partner.
Romantic Massage: Create the perfect ambiance for a night of love-making with this enticing lotion. Treat your spouse to a sensuous massage that will set the mood and ignite desires.
Deliciously Safe: Crafted with safety in mind, this massage lotion is condom-compatible, ensuring worry-free pleasure and safe sex practices.
Tasty Adult Fun: Apply Emotion Lotion Cherry anywhere on your partner or yourself and indulge in tantalizing adult fun. Explore the boundaries of pleasure with each lick and touch.
100ML of Bliss: Each bottle contains 100ML of delicious personal lubricant, allowing you to fully immerse yourself in the sensations of passion.
Variety of Flavors: Emotion Lotion is available in an array of delectable flavors, ensuring you find the perfect one to tantalize your taste buds.
Frequently Asked Questions (FAQ)
Q: Is Emotion Lotion Cherry safe to use with condoms? A: Absolutely! Emotion Lotion Cherry is water-based and condom-compatible, providing a pleasurable and worry-free experience.
Q: Can I use Emotion Lotion Cherry on any part of the body? A: Yes, you can apply Emotion Lotion Cherry anywhere on your partner or yourself to enhance your intimate moments and explore new sensations.
Q: How do I intensify the warming effect of Emotion Lotion Cherry? A: Simply blow on the lotion after applying it to the skin. The warmth will intensify, adding an extra layer of passion to your sensual experience.
Q: Are there other flavors available besides cherry? A: Absolutely! Emotion Lotion offers a wide range of flavors, allowing you to choose the perfect one for your desires.
Genres
Romance
Sensual Pleasure
Adult Fun
Intimacy
Themes
Passionate Encounters
Sensory Delight
Romantic Exploration
Conclusion
Experience passion like never before with Emotion Lotion Cherry. Let the tantalizing warmth and luscious cherry flavor awaken your senses, setting the stage for unforgettable moments of connection and pleasure. Elevate your intimate encounters with this world-renowned massage lotion, and discover a new level of sensual delight. Get ready to embark on a journey of passion and exploration!