Lotion Vanilla - Embrace the Sensual Delight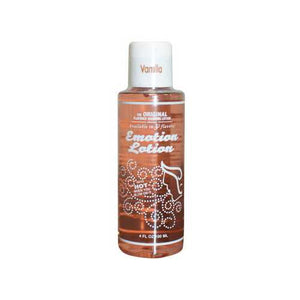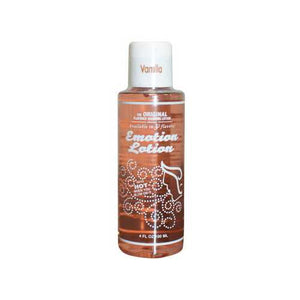 Lotion Vanilla - Embrace the Sensual Delight
Vanilla massage lotion
Indulge in the exquisite pleasures of Emotion Lotion Vanilla, the world's original flavored warming massage lotion. For over 45 years, Emotion Lotion has remained the #1 selling brand, captivating couples with its unparalleled blend of sensuality and flavor. Experience a massage like never before, igniting your senses and kindling the flames of desire.
With a delectable vanilla aroma and an enticing warming effect, this edible massage lotion is the perfect companion to set the mood for a night of passion and intimacy. Allow the gentle warmth to envelop your naked skin, as your partner blows on it, teasing you with tantalizing heat. Every touch becomes an electrifying moment, heightened by the luscious taste of vanilla that awaits as you slowly lick it off.
Emotion Lotion Vanilla is crafted from completely edible ingredients, making it both safe and delicious. The water-based formula ensures compatibility with condoms, allowing you to explore deliciously safe sexual adventures. Apply it anywhere on your partner or yourself, turning each caress into a mouthwatering delight, intensifying the pleasure and unlocking new dimensions of ecstasy.
Each bottle contains 100ML of this scrumptious personal lubricant, giving you ample supply for countless encounters of adult fun and sensational pleasure. Embrace the seductive power of vanilla and let your imagination run wild. From a soothing massage to passionate foreplay, Emotion Lotion Vanilla promises to redefine your perception of this timeless flavor. Rub it on your spouse, savor the intoxicating experience, and surrender to the irresistible temptation that awaits.
Product Details
Brand: Emotion Lotion
Flavor: Vanilla
Type: Flavored warming massage lotion
Size: 100ML
Ingredients: Completely edible
Warming effect: Activates with rubbing and blowing
Water-based: Safe for use with condoms
Intimacy enhancement: Enhances sensual pleasure
Suitable for: Couples and individuals seeking a delightful massage experience
Dimensions: Not applicable
Frequently Asked Questions
Q: Is Emotion Lotion Vanilla safe to use on the skin? A: Absolutely! Emotion Lotion Vanilla is made from completely edible ingredients and is safe for use on the skin.
Q: How does the warming effect work? A: When you rub Emotion Lotion Vanilla onto the skin, it gets warm. But the magic happens when your partner blows on it – the lotion turns hot, adding an exciting new dimension to your experience.
Q: Can I use Emotion Lotion Vanilla with condoms? A: Yes, Emotion Lotion Vanilla is water-based and condom-compatible, ensuring you can enjoy both safety and pleasure.
Q: How much lotion is in each bottle? A: Each bottle contains 100ML (3.4 fl oz) of Emotion Lotion Vanilla, providing you with ample supply for multiple sessions of intimate exploration.
Genres
Romance
Sensual
Intimacy
Massage
Adult
Themes
Sensual Awakening
Pleasure Exploration
Temptation Unleashed
Flavors of Desire
Conclusion
Emotion Lotion Vanilla is your passport to a world of irresistible pleasures. Let the captivating scent of vanilla awaken your desires, as the gentle warmth embraces your skin and the exquisite flavor entices your taste buds. Elevate your intimate moments to new heights and create unforgettable memories with your partner. Experience the timeless allure of Emotion Lotion Vanilla and indulge in the seductive art of massage.