Shower System Enema - Advanced Aluminum Nozzle for Ultimate Cleanse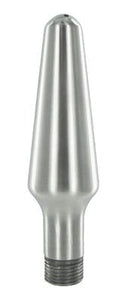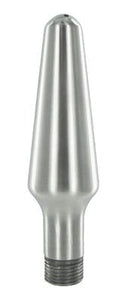 Shower System Enema - Advanced Aluminum Nozzle for Ultimate Cleanse
S
hower System Enema
Product Description
Experience the next level of enema play with the Shower System Enema, featuring an innovative brushed aluminum nozzle from CleanStream. Immerse yourself in a clean and industrial aesthetic while enjoying the benefits of a thorough cleanse. This enema nozzle boasts a sleek, tapered tip designed for easy insertion and enhanced comfort. With five outlet holes at the end, it provides excellent water flow for a satisfying experience.
Crafted from durable and lightweight aluminum, this nozzle is built to last. Unlike other materials, aluminum is resistant to rust, ensuring longevity and hygiene. Say goodbye to traditional enema nozzles and elevate your cleansing routine with this Wide Shower Enema Nozzle. Embrace style and functionality as you fill up and flush out with confidence.
Key Features:
Smooth tapered tip for easy insertion
Five outlet holes for optimal water flow
Sturdy and lightweight aluminum construction
Rust-resistant for long-lasting use
Wide design for enhanced cleansing
Product Details:
Overall Length: 5.38 inches
Insertable Length: 4.5 inches
Maximum Insertable Diameter: 1.51 inches
Diameter of Threaded Connection: 0.875 inches
Note: All dimensions are approximate.
---
Frequently Asked Questions (FAQs)
Q: Is the Shower System Enema easy to use?
A: Yes, the smooth tapered tip and wide design make it easy to insert and use for an effective cleanse.
Q: Is the aluminum nozzle safe for my body?
A: Absolutely! The aluminum used in this nozzle is body-safe and designed for intimate use.
Q: How do I clean the Shower System Enema?
A: Simply wash it with warm water and mild soap or use a toy cleaner. Ensure thorough cleaning after each use.
Q: Can I use this enema nozzle with any shower system?
A: The nozzle features a standard threaded connection (0.875-inch diameter) that should fit most shower systems. However, please check compatibility before purchasing.
---
Genres
Bathroom Accessories
Hygiene Essentials
Themes
Personal Care
Cleanliness
Modern Aesthetics
---
Conclusion
Upgrade your enema routine with the Shower System Enema and take your cleansing experience to new heights. This advanced aluminum nozzle combines functionality with a sleek design, ensuring a thorough and comfortable cleanse every time. Made from sturdy and rust-resistant aluminum, it guarantees durability and long-lasting use. Say goodbye to traditional enema nozzles and enjoy the benefits of this wide shower enema nozzle. Embrace cleanliness with style and make a splash in your bathroom routine!