The Trinity Sex Swing - Swing Into Action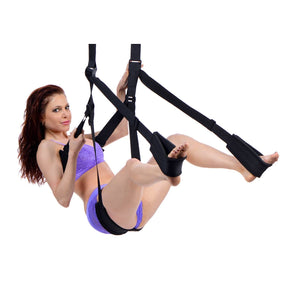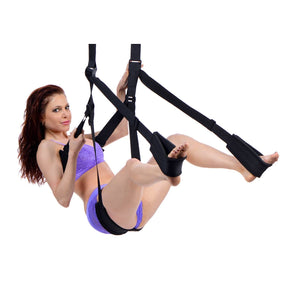 The Trinity Sex Swing - Swing Into Action
Sex swing for couples
Experience a whole new level of pleasure with The Trinity Sex Swing. Designed to ignite passion and add excitement to your love life, this swing opens up a world of possibilities for adventurous couples. Enjoy a variety of positions that will take your intimacy to soaring heights.
The Trinity Sex Swing features padded supports for your back, butt/thighs, and feet/calves, ensuring maximum comfort during your wild lovemaking sessions. Its torque bar provides additional support, allowing you to indulge in your deepest desires without any worries. The swing's extra-wide nylon straps are equipped with self-tightening buckles, enabling you to effortlessly adjust and find the perfect fit for your comfort.
Installing The Trinity Sex Swing is a breeze. With quick and simple installation, you'll be ready to explore new realms of pleasure in no time. The package includes detailed step-by-step instructions and all the necessary mounting hardware, making setup hassle-free. Please remember to consider the weight-bearing capability of your chosen installation spot for optimal safety and enjoyment.
Note: Swing Stand Sold Separately.
Packaging Note: The Trinity Sex Swing comes securely packaged in a durable corrugated box, ensuring discreet delivery.
---
Product Details
Padded supports for back, butt/thighs, and feet/calves
Torque bar for added support
Extra-wide nylon straps with self-tightening buckles
Easy and quick installation
Includes step-by-step instructions and mounting hardware
Weight-bearing capability varies based on installation spot
Packaging consists of a corrugated box
---
Frequently Asked Questions (FAQ)
Q: Does the swing come with a stand? A: No, the swing stand is sold separately.
Q: Is the swing easy to install? A: Yes, installation is quick and simple with the included instructions and mounting hardware.
Q: What are the weight limitations for the swing? A: The weight-bearing capability depends on the strength of your chosen installation spot.
Q: How is the swing packaged? A: The swing is packaged in a sturdy corrugated box, ensuring discreet delivery.
---
Genres
Adult Accessories
Intimacy Enhancers
Bedroom Essentials
Romantic Accessories
---
Conclusion - Elevate Your Intimacy
Take your intimate moments to new heights with The Trinity Sex Swing. Ignite the spark and explore thrilling positions that will enhance your connection and passion. This swing's comfortable design, easy installation process, and durable construction make it a must-have for adventurous couples seeking unforgettable experiences. Spice up your love life today and let your desires soar!