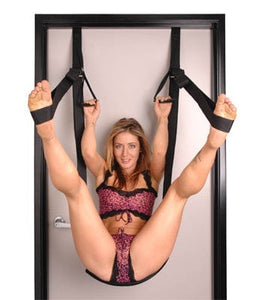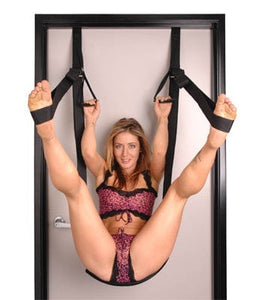 Door Swing 
for adventurous couples
Experience an exhilarating adventure with the Door Swing, the ultimate tool to elevate your intimate moments to new heights. This premium sex sling combines comfort, security, and endless possibilities for pleasure. Get ready to explore a world of passion and sensation like never before.
The Door Swing features a padded seat that cradles you in comfort, while the foot stirrups provide stability and support. With easy-grip handles to hold onto, you can effortlessly adjust your position and find the perfect angle for maximum pleasure. Whether you're a beginner or an experienced user, this sling is designed to meet your needs and desires.
Transform any ordinary doorway into an erotic playground by securing the anchor dowels over the top of a sturdy, hinged door and closing it tight. The heavy-duty nylon construction and fully adjustable tightening buckles ensure a secure and reliable experience. The extra-wide straps provide optimal leverage from any angle, allowing you to indulge in thrilling positions with ease.
Crafted from high-quality materials, the Door Swing is built to last. The nylon and ABS components guarantee durability and longevity, giving you countless hours of pleasure. The sleek black color adds a touch of sophistication and mystery to your bedroom adventures.
Product Details:
Material: Nylon, ABS
Color: Black
Weight Capacity: Up to 300 pounds
FAQ
Q: How do I install the Door Swing? A: Simply secure the anchor dowels over the top of a sturdy, hinged door and close it tightly. Make sure it is firmly in place before use.
Q: Is it adjustable to different heights? A: Yes, the Door Swing is fully adjustable to accommodate various heights and positions.
Q: Can I remove it easily after use? A: Yes, the Door Swing can be easily removed from the door when you're finished. Just undo the buckles and store it for your next adventure.
Q: Is it discreet to store? A: Absolutely! The Door Swing is compact and easy to store, allowing you to keep your intimate moments private.
Genres
Romance
Fantasy
Adventure
Themes
Passion and Desire
Sensual Exploration
Unleashing Imagination
Conclusion
Unleash your wildest fantasies and embark on an unforgettable journey with the Door Swing. This premium sex sling offers comfort, flexibility, and security, allowing you to indulge in exhilarating positions with ease. Explore new depths of pleasure and intimacy, and transform any doorway into a gateway of passion. Elevate your love life to new heights with the Door Swing today!